Skillfull Miniaturisation
The new CRP90 crawler is the latest addition to Mini-Cam's Proteus range. It is one of the smallest and most powerful crawlers available on the market today. Its compact size allows it to easily survey relined 100mm pipes.
CRP90 is packed with innovative features including a built-in motorised lift which enables the camera to be centred in pipe diameter of up to 225mm, In-built lowering device for quick and easy deployment and retrieval and Mini-Cam's patented quick-change wheel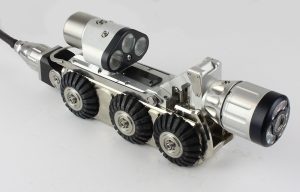 CRP90 with Axial Camera CAM027 and Auxiliary Light with Backeye ALB300.