Take a Peek at our New Factory
Mini-Cam is pleased to announce the progress of a new factory for its subsidiary company InPipe. Based in the picturesque Austrian village of Riezlern, Kleinwalsertal. The new production facility will play a key part in the manufacture of precision components for Mini-Cam's range of crawlers and push cameras assembled at its UK headquarters and distributed worldwide. The purpose built unit is almost complete, and installation of machinery will take place soon. Full production is anticipated to start in January 2017 under the management of Dietmar Jochum who has been independently researching, developing and manufacturing with Mini-Cam for over 5 years.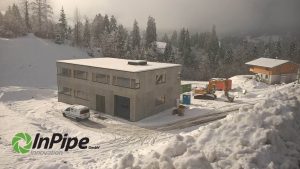 Private equity firm LDC backed the management buyout of Mini-Cam in July 2015, this has enabled rapid expansion of the company, to meet the demands of strong growth that Mini-Cam is experiencing, both in the UK and internationally. The successful development of new products is maintaining Mini-Cam's international reputation as a market leader in the pipeline inspection industry.
Forthcoming job opportunities at the new factory will be advertised on the company webpage at www.minicam.co.uk/inpipe