Introducing the new Proteus Lateral.
Introducing the new Proteus Lateral.
The Proteus LAT150 mainline to lateral inspection crawler system offers range, functionality, and reliability, but keeps things simple. Whether you're offering pre-acceptance inspections, searching for cross bores, or conducting a structural survey, the self-propelled Proteus LAT150 has you covered!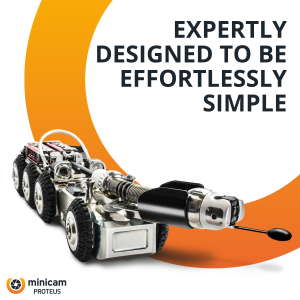 The Proteus Lateral makes traversing awkward in-pipe obstacles an easy task in pipes from 6 inches, with a self-propelled camera unit allowing inspections of lateral pipelines as small as 2.5 inches with up to 150 feet of launch distance and up to 1150 feet of crawl range. The Proteus LAT150 is the go-to product for any mainline to lateral survey requirement.