International Dealer Training
Minicam recently hosted service training for two technicians from our International dealers Nuova Contec in Italy and Rimtec in Switzerland. The two technicians; Francesco Gabelli from Nuova Contec and Roland Müller from M & M Kanal-TV Technik GmbH on behalf of Rimtec, both underwent intensive hands-on practical training covering Minicam's Proteus mainline systems and SOLOPro+ push camera systems. Several colleagues delivered specialist training on various aspects of our products, which took place at Minicam's UK factory in Golborne. Franceso's training took place over four days, while Roland spent five days with the company. On completion of their training Francesco and Roland were presented with certificates.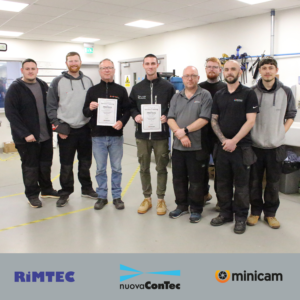 Photo: (L-R) Service Supervisor Nick Marshall, Service Technician Daniel Collier, Roland Müller, Francesco Gabelli, Service Technicians; Ian Valente, Sean Wilding, Danny Darby and Jack Chadwick.