Cee Cee Tv Lts Service Training
Minicam recently hosted training for Vincent O'Loan and Chris McNulty from Cee Cee TV Ltd, based in Rutherglen, Scotland. They experienced three days of hands-on training covering our ATEX Zone 1 Proteus mainline system and ATEX Zone 1 SOLOPRO+ push camera system. Several colleagues delivered the specialist training on all aspects of the products in our new Northern headquarters in Little Hulton, Salford.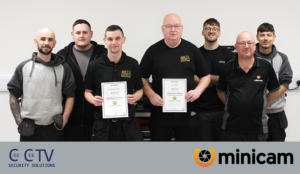 Photo: (L-R) Service Technician Danny Darby, Service Supervisor Nick Marshall, Christopher McNulty, Vincent O'Loan, Service Technician Olly Thornton, Service Technician Ian Valente and Service Technician Jack Chadwick.