Anglian Water Upgrades with 77 SOLOPro+
Anglian Water has upgraded its pipeline inspection technology with the addition of 77 camera systems which have been deployed across nine depots.
Mini-Cam has supplied its SOLOPro+ push cameras to Anglian Water sites in Basildon, Cambridge, Colchester, Grimsby, Ipswich, Kings Lynn, Milton Keynes, Northampton and Norwich. The order is the biggest to date for the new range of recording equipment which Mini-Cam launched last summer.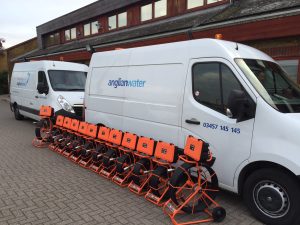 Anglian Water supplies almost 1.2bn litres of water a day to more than six million customers in the east of England. It operates a network of 112,833km of water and sewer pipes.
Its region stretches from the River Humber to the Thames estuary and then from Buckinghamshire to Lowestoft on the coast.
Greg Guest, UK sales manager at Mini-Cam, said: "We are very pleased to supply Anglian Water with our SOLOPro+ cameras to meet the company's CCTV requirements, and we will continue to provide a full back-up service. "The commitment which Anglian has shown us with this latest investment cements our strong and healthy working relationship."